1st Thursdays:

Apr 6, 2023

Join the Manheim Area Chamber of Commerce for 1st Thursday on April 6, 2023. Enjoy downtown Manheim and the surrounding areas as businesses and restaurants stay open between 5:00 pm and 8:00 pm. Vendors and food trucks will be located around Market Square, and there will be live music. Parking is easy and free!

If you are looking for ways to get involved as a business or individual, please see our get involved section.
Shop & Play
Downtown Participants
24 N Main St / Confidence through fashion
Preview the summer collection at Boutique 1780, available in sizes small - 3X, and spin the discount wheel to save on your purchase! L Square Permanent Jewelry will be joining us from 4 - 7 pm with their custom jewelry bar. Walk-ins are welcome!
10 Market Square / Plants and porch design
23 N Main St / Paint Parties/ Art lessons
4C women's ministry will be present and baked goods will be for sale.
37 Market Square / Like new clothing and decor
30 E High St / Historical building
Book signing by Mike Gerhard (The Gentle Giant)
17 N Main St / Arts & crafts event space
Horst Arts will be helping you get a head start on the flower season with wood, paper, and actual flowers! They will feature local florist, Two Peas in A Pot, who will have fresh spring flower bunches for purchase while supplies last. They will also feature The Parchment Gardener, a Lancaster-based artist that offers uniquely crafted paper flowers that are always in bloom—no watering required. Finally, Horst Arts will be offering unique wooden flowers that are fun accents to flower bouquets.
27 E Ferdinand St / Thrift shop
32 E High St / Historical building
Blacksmith demonstration
15 E High St / Library
All things gardening! We will have our April Raffle basket out which is a gardening theme and books out about gardening. We'll also have a coloring sheet about springtime and flowers.
88 S Grant St / Sharing Manheim's heritage
Railroad station on Charlotte St will be open
9-11 N Main St / Thrift shop
Stop in and see our all "nu" Spring and Easter merchandise!
73 S Main St / Pharmacy and gifts
Pick an egg for a special discount on gifts.
50 N Main St
Open for worship @ 7 pm. The service will feature Stations of the Cross – a dramatic, experiential telling of Jesus' journey to the cross.
12 Market Square / Unique dog boutique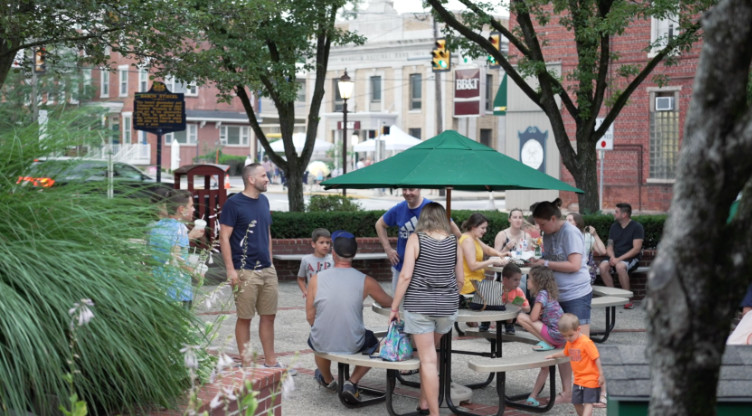 On the Square
Coloring Activity for kids
Fresh roasted coffee beans
Manheim dance studio
Ticket raffle
Confectionary artist
Broom sale
Selling bricks for Vets Mem
Cleanup & Restoration
Special Features
Eat & Drink
Downtown Participants
39 Market Square / Pizza and Italian foods
55 N Main St / Unique brews and food
215 S Charlotte St / Fine dining and cocktails
30 S Main St / Pizza and Italian meals
8 S Charlotte St / Boutique winery, outdoor stage
Releasing our new sweet, white wine, "Chiques White" and will be selling it for $1 off each glass. We'll also be introducing a new cocktail for the month: mojito!
47 N Main St / Ice cream, candy, gifts
Food Trucks on Market Square
Family Raised Quality Pork
New Orleans style fare
Dough, shakes & ice cream
Traditional, unique Mexican
Nearby Participants
309 S Main St / Ice cream and meals
Cheeseburger Special Buy One, Get One 50% off (Limit one deal per customer)
85 Doe Run Rd / Italian ice and custard
171 Doe Run Rd / Italian meals and pizza
202 S Charlotte St / Beer and beverage sales