1st Thursdays:

Sep 7, 2023

Join the Manheim Area Chamber of Commerce for 1st Thursday on September 7, 2023. Enjoy downtown Manheim and the surrounding areas as businesses and restaurants stay open between 5:00 pm and 8:00 pm. Vendors and food trucks will be located around Market Square. Parking is easy and free!

If you are looking for ways to get involved as a business or individual, please see our get involved section.
Shop & Play
Downtown Participants
24 N Main St / Confidence through fashion
10 Market Square / Plants and porch design
23 N Main St / Paint Parties/ Art lessons
37 Market Square / Like new clothing and decor
30 E High St / Historical building
17 N Main St / Arts & crafts event space
27 E Ferdinand St / Thrift shop
32 E High St / Historical building
15 E High St / Library
9-11 N Main St / Thrift shop
12 Market Square / Unique dog boutique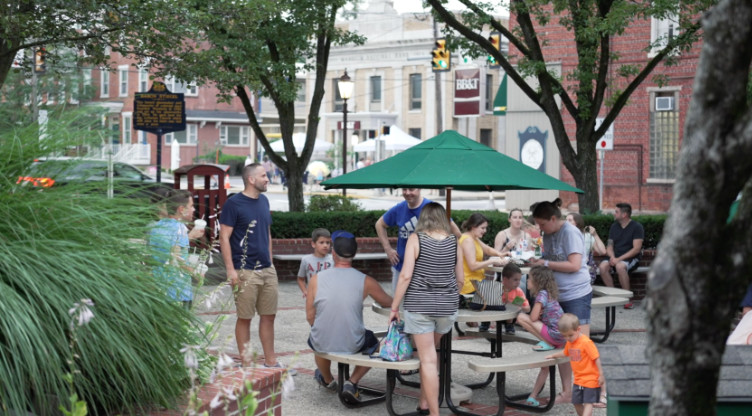 On the Square
Fresh roasted coffee beans
Manheim dance studio
$2 slices and 20 oz sodas
Gut health/cleaning supplies
Broom sale
Selling bricks for Vets Mem
Info on employment
Florals and outdoor potting
Special Features
Eat & Drink
Downtown Participants
39 Market Square / Pizza and Italian foods
55 N Main St / Unique brews and food
215 S Charlotte St / Fine dining and cocktails
30 S Main St / Pizza and Italian meals
8 S Charlotte St / Boutique winery, outdoor stage
662 South Oak St / Mini golf, ice cream, meals
1/2 off mini golf and 25% off kids meals for kids 12 and under!
47 N Main St / Ice cream, candy, gifts
Food Trucks on Market Square
Family Raised Quality Pork
New Orleans style fare
Dough, shakes & ice cream
Traditional, unique Mexican
Nearby Participants
309 S Main St / Ice cream and meals
85 Doe Run Rd / Italian ice and custard
171 Doe Run Rd / Italian meals and pizza
202 S Charlotte St / Beer and beverage sales